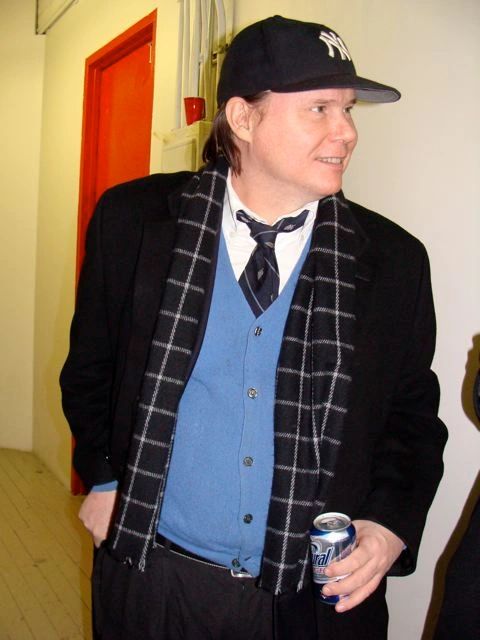 Tribute To Our Friend Baird Jones 2008


Baird Jones @ Shag Gallery Winter 2007-08 photo by Artist Bryan Gormley
http://www.bairdjones.com
Ken Emerson Keeps The Light Shining!
http://groups.yahoo.com/search?query=Baird_Jones_Society

Dear Friends,
The BAIRD JONES MEMORIAL BASH @ THE PLUM
Party continues till midnight! No RSVP necessary-
everyone invited-or use my name-Aristedes DuVal
(aka Mr. Sexy(R)Memorial Prayer Service Saturday, March 8, 2pm Cathedral Of Saint John The Divine, NYC.Peace!
IN SHOCK AT THE PASSING OF BAIRD JONES. Feb. 24, 2008 Art lover, journalist of the art & celebrity scene, party giver, Baird Jones, gone at 53! Promoter of Tunnel, Palladium, Limelight, Studio 54, The Clash @ Bond's, Patterson Museum, Webster Hall, and so much more.
I can't believe I've known this unique individual for what must be at least 30 years.
If I remember correctly, at least 10 years back, his party passes stated, "More Than 1 Million People Have Attended Baird Jones Parties". I kinda believed it for you could never be certain it wasn't true. He gave so many parties at clubs and galleries that probably by now it's not an exaggeration. God only knows. Maybe Baird's close friends, Hoop-aka The King Of Art, or Ken Emerson whose videos of Baird (interviewing Iman) appear on You Tube- perhaps they would know how many? As opposed to how many events he attended? My guess is a combined total of at least 10 Thousand events over a 30 year period! Who else can claim that dedication to the New York scene?
Baird was part P.T. Barnum, Preppie, Republican, Secret Hippie, covert Holden Caulfield, upper-class Brahman art-lover, Andy Warhol with a dash of Walter Winchell-though not a racist like Winchell was. He loved a good gimmick. He promoted Dwarf Toss & Midget Bowling, but with helmets I think! He must have loved people because he was constantly working the crowd. And he loved art & artists. If you were at all part of the art scene in New York over the last quarter of a century you had to have heard of Baird. He knew everybody in the Art World, big & small. The Warhol Crowd, the Max's Kansas City Crowd, The East Village Crowd, The Soho Crowd, The Upper East Side Preppie Crowd, The Club Crowd.
He quietly collected art. Much to the chagrin of some East Village artists, he was the first to champion the Estonian-American pop artist, Mark Kostabi. He was also fascinated with celebrity art- the art of otherwise famous people like Tony Bennett, Gina Lollobrigida, Anthony Quinn & Doctor 'Suicide' Kevorkian. He knew many of them and showed their works at various venues, with a two hour sponsored open bar of vodka and gin drinks, beers or wine or champagne & fruit. Blurring the lines between 'Art' Gallery and Club Gallery. We often attended his parties, met him at some major or minor gallery opening, read his celebutante gossip on "Page Six" of the Daily News or NY Post, or his columns in John King's Models & Talent or Showbiz News. You would see Baird on Manhattan Cable Public Access TV Shows. In those days we were all producing Public Access TV Shows like crazy-the real nutty reality TV. Baird was part of that revolution. At one point he produced many interview shows at a club called 'The Underground' which was in an abandoned subway station at the North end of Union Square. I was in at least couple of these.
The cable shows were populated by young collegiate types, artists, a flotsam & jetsam of artists, and NY Nightlife characters. Among the many interviews & off the cuff production help was a young preppie by the name of Allenby Singleton-Greene, a First Amendment Cable Crusader-the infamously funny Ugly George, a weird comedian & livery driver by day Scott Lifshine-aka The Nuclear warrior, and still others like John King- a producer of hundreds of local Access TV Talent-Variety Shows. An incredibly creative & outspoken cultural maverick, Logan Evans, from Harvard, Greek poli-sci major George Gilson-aka Kid Yorgothamode and Clint Freeman of The Lovecats Show. Truly original people.
In the early 80's Kathleen Vach aka Ms.Mary Doolittle of access TV fame, my girlfiend/mom-to-be, and I created "The Mr. Sexy® Atomic Hot List" of free cultural events. Our tiny publication was the first to comprehensively list the vast majority of Gallery Openings in NYC-in advance! People were shocked at our ability to garner all this heretofore secretly coveted clique-ish informazione. The Hot List was profiled in New York magazine by journalist and Baird cohort, Anthony Haden-Guest (Studio 54 ). We were attending close to a hundred events a week, publishing 32 one night, attending 27, should be in the Guinness Book of World Records, which leads us back to Baird Jones! The Soho & East Village Art Boom. At that time there was a vague feeling of rivalry between Baird and myself. But one night he hurriedly walked up to me on the street in the East Village (in between our attending 5 openings) and surprised me when he said of the artists & gallerists, "These guys are so ungrateful. They don't realize what you & Kathleen are doing for them." I felt that we had been annointed with a very special compliment from a guy who really knew and actually cared. From then on he would often introduce me as Mr. Sexy® to various people on the scene.
One time at a party in one of a hundred clubs he promoted, Baird proposed a 'promotional' idea to an artist friend of mine, Oswald Martin Marsant, a contemporary of Jean Michel Basquiat. Oz is tall, skinny, & Black- a humour-filled raconteur, unique presence, talented painter and lover of wine, women, & song. Baird's plan was to introduce him as "Blade from Harlem." Then he would whisper some ghastly hint of The Blade's reputation in the ear of a co-ed, or some scenester luminary he wanted to impress, and they would gasp! I can just see Baird with that mischievous, impish Huck Finn grin of his and a bemused Oz hiding behind sunglasses and a leather jacketed persona. Of course this charade couldn't last-regardless of the publicity Baird would promise.
In the last few weeks Baird was promoting a mutual acquintance, the wacky but brilliantly original chanteuse Phoebe Legere, author of the musical "Mrs. President." He was planning to write a story on my friend the artist Colette aka-Justine, Olympia, Lumiere, whose building on Pearl street had recently collapsed. She and Baird were concurrently comparing stalker stories. I can't help thinking, "Maybe Baird stopped by Socialista on a night the bartender had Hep?" So many questions whirling in our heads from the shock of this news. New York has lost a cultural icon reminiscent of irreplaceables I have known like Max's Kansas City creator, restauranteur Mickey Ruskin, and of course, Andy Warhol. So whether it was 10,000 or 50,000 events Baird presided over, we will miss him and still half expect another email invitation... Aristedes Philip DuVal
http://www.AristedesDuVal.com (MrMelody212@yahoo.com)
photo of Baird Jones by Artist Brian Gormley